The Baby In Yellow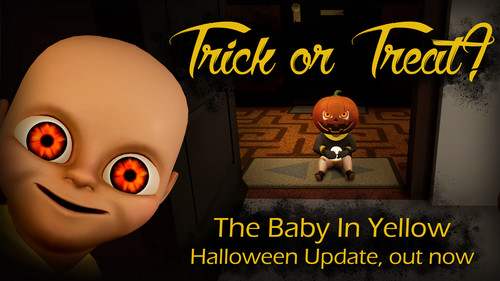 Happy Halloween 👻
A developer update
Spooky greetings!
It's been a pretty crazy year for Greg and I at Team Terrible; with the massive success of the mobile version across the globe we've seen over 15 million people download and play the game, and thousands of content creators join us in abus... I mean taking care of The Baby In Yellow 😂
Thanks to the overwhelming support we have received we have been able to quit our jobs to work on The Baby In Yellow full time, and are currently working hard on a major update that will completely revamp the game and add a whole new area to explore, new endings, more secrets, jump scares and maybe even a cheese toastie or two. We're so excited to show you all what we have in store!
Before then we've decided to bring parity between the mobile and PC versions of the game (finally!), and intend to keep doing so moving forward, and as an added thank you to all the PC gamers who helped us grow we've included the BeeBee update free.
New in the PC build:
Halloween content + outfit
BeeBee costume for the baby
Hidden collectables
Big head mode
Ultra low resolution mode
Toy box (???)
Explosive toilets and ovens (don't ask)
Teaser area for next update
Improved lighting
Lots of bugs stomped, squished and otherwise exterminated
Thanks again to all you wonderful people who have supported us and helped us grow, and if you've not joined our discord yet feel free to drop by for a chat! https://discord.com/invite/kBY5QU3
Aaron & Greg
Team Terrible